Cost summary: 7 weeks in Greece
Is it expensive to live and travel in Greece? After spending several months in very inexpensive Balkan countries, it certainly first felt so, but in the end Greece turned out to be surprisingly affordable. In this post we open up the costs of our seven weeks stay in Greece; from Meteora Monasteries to Itéa on the coast, then Athens for 3,5 weeks and a two-week round trip in beautiful Peloponnese.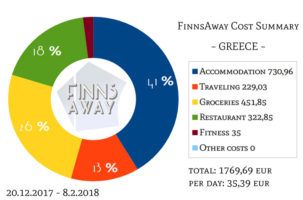 We stayed in Greece 50 days, from late December to early February, and spent all together 1770 €, which is a bit more than 35 euros per day for two of us together. Our long term nomad life budget target has been set to 50 € per day, so we managed to keep that with ease in Greece. The cost graph shows how the total sum is divided between accommodation, groceries, restaurants, traveling and fitness costs (click the pic to open it).
Accommodation costs
We started our road trip in Greece in late December from Meteora, and there was limited amount of inexpensive accommodation options available at that time. We usually don't stay in hotels, but made an exception in Kalabaka, the town next to Meteora monasteries. It was the most expensive accommodation in Greece (or anywhere during our nomad travels) for us, but still bearable, 36 euros per night. The rest of the places were really nice rooms and apartments booked via Airbnb.
The average price for accommodation in Greece was 14,62 € per night, all together 730,96 € in 50 days. As it was low season, part of the places were cheaper than they are in summer, and we also got some small discounts for longer stays and for promoting. Still, based on our experience, it's fully possible to find inexpensive accommodation options when traveling in Greece mainland.
Eating and drinking
The second-largest part of the cost graph is quite naturally food and drinks. We made most of the meals ourselves, so the groceries section is much bigger than restaurant costs. We were surprised how expensive some of the food supplies, like coffee and canned foods are in Greece, but on the other hand, most vegetables and fruits are cheap and very fresh and tasty.
Local wine was really inexpensive both in grocery stores and in restaurants. We didn't go out much, but had one longer night in pubs with fellow Finns and also bought some surprisingly expensive craft beers once. All together we spent 322,85 € in restaurants, which is 6,46 € per day for two of us, and used 451,85 € for groceries, which is 9,04 € per day.
Traveling costs and fitness
Traveling costs, 229,03 €, include fuel, insurance and taxes for the car. In addition there are some minor public transportation costs and one taxi ride. In fitness costs category are the entries to gyms. Usually the price for single entry was around 5 euros in Greece. Sometimes we did also collaboration with fitness centers, and got free entries against promoting.
Sources of income
Until recently, we have been traveling using only our savings, since we don't have any regular salaries after leaving our jobs. When in Greece, we accomplished and invoiced the first small customer project through our company, and more assignments are ongoing, so slowly we are building new sources of income.
We also have our apartment back in Finland rented out now, so we get some monthly rental income. However, we also have a mortgage, so the rental income basically goes fully to our bank. Our target is that at some point the projects that we do as digital nomads, together with investment and rental income, are enough to cover the expenses of nomad life and traveling.
New form of money matters posts
The previous money matter posts, from 2017, were made on monthly basis. From now on we are focusing on one country at the time in these posts. This should be more informative way, and make it easier to compare the costs between different destinations. We will also keep on reporting the monthly costs in Finances -page, by adding short cost summary reports each month.
Related posts:
Any thoughts about travel costs or the price level of Greece? Share them in comment section below!