Portugal – First imPressions and charming countryside
Portugal is one of those European countries that we had visited only shortly before starting our nomad life. We had actually just spent one day in Lisbon between flights, so had only seen a tiny glimpse of this beautiful country on the Iberian Peninsula next to the Atlantic Ocean. So now it's time to get to know Portugal better, and to travel around it for a month, from the beaches of Algarve to the rugged northeast.
Quick visit to Lisbon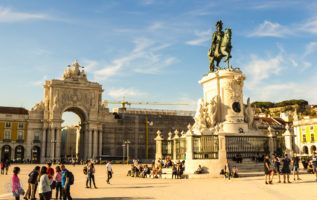 As most of the visitors, we started our adventure from the capital city Lisbon. We stayed for a couple of days in a hostel few kilometres out of city center, and mostly just walked around admiring the pretty, colorful buildings, clean and green parks and the relaxed atmosphere. In April the summer season hasn't started yet, but still there was surprisingly lot of international guests in the city center. It was actually somewhat weird to be surrounded with so many tourists again, after traveling for a long time during off-season. I guess we just have to get used to people taking holiday selfies and to sightseeing-tour double-deckers again, as the summer and holiday season in Europe is almost here. In Lisbon there also are fancy-looking rickshaws for sightseeing tours, and of course the famous tram line 28, that serves mostly just tourists nowadays, passing through the most famous districts of the city. We didn't hop in, but might do that later when we'll return to Lisbon. At least taking a picture of one of those cute, old, yellow trams is a must when in town.
Paco de Arcos and Amora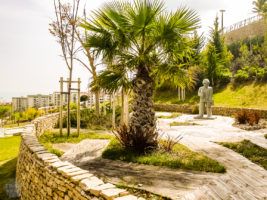 It would have been nice to explore Lisbon for longer, but we decided to move outside the city to get some work done before traveling around the country. It's easier to find reasonable priced accommodation options outside the capital; in Lisbon we had to pay almost 30 euros for a double room in a hostel. So we stayed for few days in an Airbnb room in small Paco de Arcos, just a short train ride west from Lisbon along the coastline. We had plans to visit Cascais and Sintra from there, but as the weather was wet and chilly, we saved that for later and focused more on working. To balance all that laptop time we went running along the coastline, to the gorgeous Parque dos Poetas and to historical center of neighboring Oeiras.
After Paco de Arcos we also stayed few days in Amora, a small town next to Seixal south from Lisbon, also just a short train ride away. Alternatively, it's nice and easy to cross the Tagus river by ferry from Cais do Sodre terminal to Cacilhas in Almada. From Cacilhas you can continue south using metro and train. Public transportation in Lisbon and to neighboring towns is very organized, punctual and affordable.
Charmed by the Portuguese countryside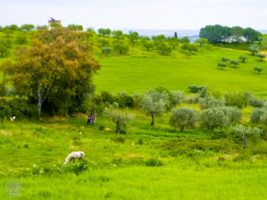 When in Amora, we got in contact with a Portuguese couple living in a small village close to the city of Santarem, around 80 km northeast from Lisbon. They were offering a guest house in rural area for house sitting, so we decided to seize the opportunity to see how is the life in countryside and to help with some gardening and other stuff in exchange for accommodation. And yes, we can warmly recommend visiting the rural Portugal, especially in spring!
The sleepy villages with white-washed houses, tiny grocery stores and kindly smiling oldsters walking slowly along the streets are simply delightful, and combined with the blooming nature, fields and traditional farms around them it can momentarily feel like you'd gone back in time. To get to Santarem we took a regional train from Lisbon Santa Apolonia station for 6,70 €. When traveling by train in Portugal, pay attention to the train types and ticket prices; an IC to Santarem would have cost nearly twice as much as the regional train, and there wasn't even a big difference with the travel time.
One of the bit bigger villages with services for tourists in Santarem District is Constancia. We made a day trip to this picturesque riverside town together with our hosts one sunny day. The historical center consists of few narrow cobblestone streets and staircases, white stone houses, flowery gardens and a small central square with couple of cafes and restaurants. There is also a riverfront walkway with a leafy green zone around it. The main reason for tourists to pop in Constancia is the nearby Castle of Almourol (Castelo de Almourol). This medieval castle from 12th century stands on an island 5 km away from the Constancia. On the same site supposedly first was a Lusitanian castro and after that a Roman fort. The existing castle was reconstructed in the 19th century after being abandoned for centuries.
Planning a road trip in Portugal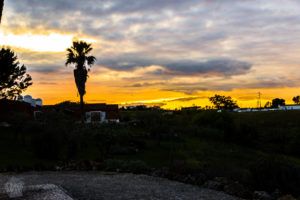 It would be easy to spend weeks living in one of these countryside villages or small towns, but since we are kind of on a clock, we have to shortly continue the tour. To be able to freely visit historic villages, nature parks, hiking trails and secluded beaches, we will rent a car from Lisbon for around two weeks and drive around the country. Unfortunately, two weeks is clearly not enough to see everything, even if Portugal is not that big country. So now we are struggling with making the road trip plan; where to stay, what to see, how quickly to move from one place to another… you know the drill.
Reading guidebooks, blog posts and travel forums is not helping much, quite the opposite actually; there are so many awesome destinations we'd like to visit. Current plan is to head to south first, maybe via Evora and some other medieval towns through eastern half of the Alentejo all the way to south coast. The southernmost part of Portugal, Algarve region, is probably the most popular summer holiday destination among foreign tourists and locals alike. Which is no wonder really, the Algarve beaches look absolutely stunning in the pictures. After exploring Algarve we'll probably head back north along the west coast. If only there will be enough time, the plan is to visit Porto and the northernmost parts of the country as well.
Road trip in Portugal wouldn't be complete without getting to know the local cuisine and wines of course. So the plan is to visit some wineries and to taste local specialties on the way. We haven't eaten out much yet, but already tasted some great fish dishes and of course the famous pastries called Pastel de Nata. And we have tried Vinho Verde, young Portuguese wine that is typically dry, fresh and light. And delicious. Looking forward to diving deeper in the Portuguese food and wine culture!