Spain: Montserrat, mountain views and monasteries
​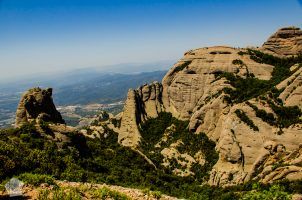 Montserrat is a multi-peak mountain range in Catalonia, near Barcelona. In this post we shortly introduce Montserrat, explain how to get there and describe what to expect of this beautiful mountain area with several monasteries and a nature park with hiking trails. The Catalan word Montserrat translates to serrated mountain, or sawed mountain, and some of the towering peaks do kind of look like being shaped with a gigantic saw, and the peaks are named after their shape, like an Elephant or a Mummy.
Table of contest:
About Montserrat
Montserrat Monastery
How to get to Montserrat
Walking routes in Montserrat
Where to stay in Montserrat
Montserrat mountain is spectacular for several reasons, first of them being the unusual shape of the mountain. As Montserrat stands alone, with no other mountains close to it, and basically rises straight up from a plain and a river, it looks higher than it actually is, and can be seen from afar. The highest peak, Sant Jeroni, is 1236 meters high, and the whole mountain range is 10 km long and 5 km wide, with surface area of 45 square kilometers. Montserrat is also referred as holy mountain, and it's home to popular Santa Maria de Montserrat Abbey and other religious buildings, like Monastir Sant Benet de Montserrat, and the former Monastery of Santa Cecilia.
Montserrat Monastery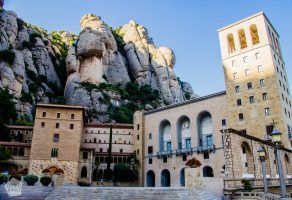 The main monastery of Montserrat, officially called the Benedictine Monastery Santa Maria de Montserrat, was officially founded in year 1025, by Abbot of Ripoli and Bishop of Vic. There had been monks in Montserrat already for some time, and it's believed that the first chapels were built on 9th century. The present day abbey is a popular pilgrimage destination, and notable for enshrining the image of the Virgin of Montserrat. A community of around 80 monks lives and works in the abbey. The monastery is also home to Montserrat's Boys Choir Escolania, that performs regularly in the basilica of the monastery. The location of Montserrat Monastery is very photogenic, as it's built high up on the wall of the mountain.
The most remarkable building in the Santa Maria de Montserrat Abbey is the Basilica of Montserrat. This Gothic style church is where the masses and concerts are held, and it houses the invaluable Black Madonna statue. Basilica can be accessed freely, just remember to dress respectfully. The church is entered through an open courtyard, the marble-floored Atrium, from where you can admire the sculpture-rich facade of the church. In addition to exploring the basilica, many visitors also spend some time in Montserrat Museum. The main museum is a bit surprisingly an arts museum, holding six different permanent collections. There are some artworks from painters like Picasso and Dali also. Tickets to the museum cost 8 € for adults (2019), taking photos and videos is prohibited.
How to get to Montserrat and the Abbey
Montserrat is a very popular tourist destination, and sees a huge number of visitors throughout the year, many of them on a day trip from Barcelona. There are plenty of tours available, with arranged transportation from Barcelona, but it's easy to explore Montserrat on your own as well. We visited the area during our road trip, so came by car, but Montserrat mountain and monastery can be reached using public transportation as well.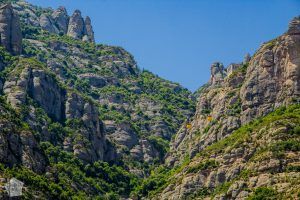 The easiest and quickest option from Barcelona is to take a train from Plaça España train station. There are two train stations in the foot of Montserrat Mountain with connecting transportation up; Aeri de Montserrat and Monistrol de Montserrat. Aeri de Montserrat is a station from where the cute yellow cable cars take you up to the Montserrat Monastery, and there is also a walking trail (with quite some ascent) up to the monastery from this train station. Monistrol de Montserrat station is next to the village by the same name, and from there you can travel up to the monastery by a rack train (that stops on the way also in a station called Monistrol Vila, that is also close to the village and next to a car park). Read more about train journey and combined tickets, as well as about other transport options from the informative Montserrat Tourist Guide page.
Walking routes in Montserrat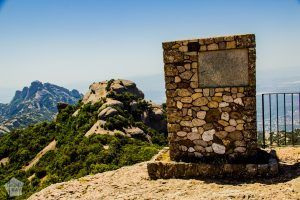 There are some short walking routes around the monastery, taking you to pilgrim sites and past religious monuments and sculptures. For those more interested in hiking up on the Montserrat mountain, there are several trails running in the Montserrat Nature Park. To reach these trails, you can either take the Funicular de Sant Joan up from the Montserrat Monastery, or walk up, either along a road to the upper station, or along a walking trail with stairs. The funicular is pretty expensive to our taste (8,75 € for a single journey, 13,50 € for a round trip for adults), so our advice is to hike. From the upper station of the funicular, there is a well-maintaind, marked path that leads to Sant Jeroni Peak, and you'll find several other trails too.
Before heading for a hike up on top of the mountain, you could ask for a route map from Montserrat tourist office. During our great day hike in Montserrat Nature Park, we used partly the well-maintained and marked main trails, and partly some less-known paths that run between the amazing rock formations. Read more about hiking trails in Montserrat, and check out a picture gallery from along our hike, from hiking in Montserrat guide post.
Where to stay in Montserrat
To have enough time for both, visiting the Montserrat Monastery and hiking on the mountain, a day trip may feel too short. If time allows, stay at least one night, and see this beautiful area both in sunset and sunrise. Up in the Montserrat Monastery itself, there is a three-star hotel Abat Cisneros, a more affordable hostel Alberg Abat Oliba and also some basic apartments available. You might want to book well ahead though, as it seems that these places are often full. For those into camping, there is a small, basic campsite called Montserrat Camping, very close to the monastery area but still in a quiet place, with great views both towards the monastery and to the mountain walls. In Monstrol de Montserrat village on the foot of the mountain, there are more accommodation options, like homestays and apartments.
Have you visited Montserrat Mountain and Monastery? Feel free to leave a comment below! For us this scenic place brought back memories from Meteora in Greece, another gorgeous area with towering rocks and monasteries right on top of them.