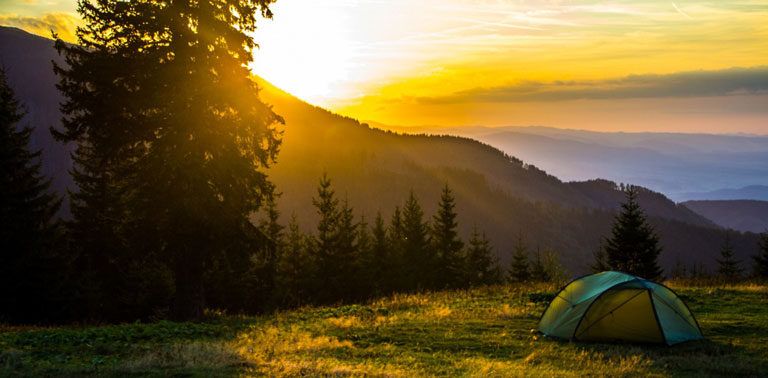 Fagaras Mountains, also called the Transylvanian Alps, are part of Southern Carpathians and the highest mountains in Romania. This mountain range is located basically in the middle of Romania, bordered with Fagaras Depression in the north, Piatra Craiului mountains in the east and Olt river Valley in the west. Fagaras massive is around 70 km long and 40 km wide, covering over 2000 square kilometers. More than 20 peaks are higher than 2000 meters, the highest reach over 2500 meters. Mountains are dotted with glacial lakes with super-clear water that is safe for drinking.
It is possible to trek along the whole main range, which would take 5 to 7 days. Path going over the range is marked with red stripes, starting from Olt Valley (Valea Oltului) in west all the way to Sirnea village or Zarnesti in the east. Hikers aiming to make shorter hikes often approach the mountains from the steeper northern side, since there are several starting points easily accessible by car, or even by public transportation. Bigger cities in northern side are Sibiu, Fagaras and Brasov, and there are bunch of smaller towns between them.
Our three days hike in Fagaras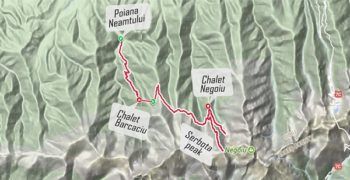 Coming from Apuseni Mountains, we drove first to Sibiu and continued via Avrig along small, partly unpaved road to cabana Poiana Neamtului, where we parked the car. This is a starting point for a red cross marked path, that leads up to the mountains.
From Poiana Neamtului to Cabana Barcaciu
It was already late afternoon when we started, so for the first day the target was only to climb a bit over 800 vertical meters to Cabana Barcaciu in 1550 meters. It was a steep hike, just around 5 km long, but took like 1 hour 45 minutes to climb. If steep, the path is easy to walk, mostly going in a forest. There is also a dirt road going up to the cabana (accessible only off-road 4×4) but the hiking path is more comfortable to walk (we climbed partly using the road, it is much steeper than the path and often muddy).
Cabana Barcaciu is a lovely, old mountain chalet run by an aged couple, who, based on the pictures on the walls, probably have stayed there for decades. Cabana offers accommodation in beds for 26 persons and on top of that there is an attic with old mattresses. Also camping is allowed, against small fee for using the facilities. There is running water coming from a mountain spring, outhouse toilets with no more than a whole in the floor, and a shower room with spring water (it's oh-so-cold but how refreshing!). Drinks and hot meals are served, even vegetarian ones on request. Three friendly dogs welcomed us when reaching the chalet and there were some chickens running around too.
Together with two German girls, who came down from the mountains to the chalet, we were the only ones there at 6 pm, so were really surprised to hear that the cabana was fully booked. We did not have reservation, or even a tent with us since our sleeping bags are not warm enough for camping in the mountains where temperatures fall down close to zero during the night.
Since it's not allowed to leave anyone without a roof over their head in the mountains, the owner let us sleep in the attic floor (basically under a table) with our own air mattresses (for less than 5 € per person). Soon we found out that there was a group of 50 teenagers on a hiking trip, and they quickly conquered the place and filled the attic as well. Cheery youngsters, but oh so noisy… After cups of hot wine and couple of beers under the starry sky we were ready for a good nights sleep, luckily had earplugs with us since the teens were up late.
From Cabana Barcaciu to Cabana Negoiu and up to Serbota
Next morning we woke up to a perfectly sunny, but really windy day. It was the first demonstration that in the mountains the weather can change really quickly. We had some breakfast and coffee that we had brought with us, and continued the hike towards east and the higher peaks. Plan was to leave our backpacks in the next chalet, and hike up to top from there.
Path from Barcaciu (2,5 hours) to Cabana Negoiu in 1540 meters is marked with red circles and goes over some wooded ridges, but is quite even however. In the valleys the wind coming down from the mountains was sometimes really strong and gusty, so needed to carefully watch our steps in the narrow path that partially goes just next to steep drop, so there is no space for loosing your balance.
Again we had no reservation for the chalet, and were actually kind of hoping that this one would also be full, so that we could get cheap places on the floor. But there was space in double rooms, so had to take one of those for 100 RON, which is around 22 €. Would have preferred cheaper dorm beds in second building but those were all full. On the other hand, we got a nice private room in the upstairs of the chalet and easy access to water toilets. Shower would have costed extra but in this place they have warm water. Plan was to eat lunch in the chalet before heading up, but unfortunately meals are served only during certain hours (7-9, 14-16, 19-21). Well, had some snacks still left, so decided to survive the day with them then.
From Cabana Negoiu there are paths to Negoiu peak (2535 m, marked with blue triangles) and to Serbota peak (2331 m, marked with blue stripes), and between those two goes the red-marked main path, on really challenging terrain at this point of the range. Unfortunately we did not have enough time, water or food to make the whole circle and climb up both peaks (to do the complete circle + Negoiu peak climb you should start in the morning from the Negoiu cabana).
So we first hiked few kilometers towards Negoiu until the steep climb started. The path so far was wonderful, going next to the cliffs partially over metal bridges and to the crossing of mountain stream with views to a waterfall. Then we headed back, and started the climb to Serbota. Path there first goes through forest until the tree line, and then up through a meadow on the west side of the mountain. With tired legs it was not too easy way up, but when reaching the final, rocky part up to the top, the awesome views helped to forget all aches. We had a break on the top, lying down on our backs and just watching the scenery with mountain peaks, sun shining.
Hiking back down to the cabana completed the day, altogether 7 hours of walking, around 48 000 steps taken and 3 000 calories burned. Have to say that after the long day, the thin "chicken soup" with basically no chicken served at the cabana was a disappointment. Should have carried the primus and prepared meals ourselves. Beer was cold and refreshing though 😀
From Cabana Negoiu back to Poiana Nemantului
Night was again cold and windy, but it was comfortable and warm under the blankets in our room. Would have had nothing against an even longer hike along Fagaras range, but had checked the forecast that weather was turning worse. So for a morning exercise we hiked 25 minutes down from the cabana to check a close by waterfall and back, and then headed 2,5 hours back to cabana Barcaciu to have omelets for breakfast. Then there was only the steep descent back to the starting point left. It was actually not much more faster than climbing the same trail up, since steep descents are somewhat hard for thighs and knees. After four hiking days in a row with not enough food, we were thinking about pizza and planning what and where to eat for the best part of the descent…
Feelings about hiking in Romania
Based on our experiences, can highly recommend a hiking trip to Romania in summer! The country is so beautiful and full of pristine nature, everything is comparatively cheap and people are helpful, even if only a few speak English. The mountains, especially Fagaras, are rugged and full of well-marked paths going past one spectacular scenery after another. Come prepared though, weather conditions change quickly and it can be freezing up there even if temperatures down in the valleys are well over 20 degrees. Accidents are not uncommon, so first aid supplies are a must, and need to be remembered there are bears and vipers among other animals living on the mountains.
Coming up next is a post about driving over Fagaras Mountains via the famous Transfagarasan road, and experiencing the strongest thunderstorm we have ever seen!