Wine tasting with a view in Tuscany
When driving through Tuscany region in Italy, we had a wonderful opportunity to visit Winery of Colle Sorripa and to taste their excellent Chianti Classico wines. Colle Sorripa is situated near Florence, in San Casciano village in the vineyards of Villa Giulia. We got to meet with one of the winery business owners, Sari Koponen and her family. Sari has been living in Italy for decades, but is originally from our home country Finland!
In this post we'll introduce Chianti wine area, Villa Giulia and Colle Sorripa wines. This small winery makes a great day trip from Florence, so when you are planning a holiday in Tuscany, make sure to book a tour and tasting!
Chianti wine region in Tuscany
Tuscany region in central Italy is famous for beautiful landscapes and quality wines. There are several wine regions in the area, part of them, like Chianti and Vino Nobile di Montepulciano being prominent world wide. Tuscany region has warm Mediterranean climate, and the terrain is mostly hilly. On the hillsides in higher elevations the grapes receive a lot of sunlight, and there is proper temperature variation between day and night for the grapes to preserve ideal sugar and acid balance.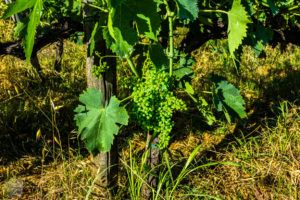 The soil in Chianti region is generally quite poor with low level of nutrients, which means that the yields are relatively low, as the grapes are smaller with less water in them, but the products are of excellent quality. Majority (around 80 %) of the wine produced in Tuscany is red wine. Sangiovese grape is the most notable in Tuscany area, and there are several clonal variations of it as well. Cabernet Sauvignon is widely grown also, followed by other international grape varieties. The name Sangiovese comes from Latin words Sanguis Jovis, which means the blood of Jupiter. Sangiovese wines are ruby and medium-bodied, with sweet cherry in the aroma and taste.
Chianti wine region is located in central Tuscany, roughly between Siena and Florence. It's divided in seven sub-zones that each produces Chianti wines under their own label. Chianti wines are either made only from Sangiovese grapes, or mixed with other local or international varieties, but so that there is at minimum 80 % Sangiovese. Chianti celebrated 300 years of official wine making in 2016, but the history of wine production in this area dates back to Etruscan times before Roman empire.
The four categories of wine in Italy
In Italy, wines are divided in four categories based on their origin and quality. The highest DOCG (Denominazione di Origine Controllata e Garantita, meaning controlled and guaranteed designation of origin) labeled wines are produced in specified region, using defined methods and the quality and taste is examined and endorsed by an evaluation committee. The second highest category is DOC (Denominazione di Origine Controllata, controlled designation of origin). The other two categories are IGT (Indicazione Geografica Tipica) with defined area of origin but more flexible rules regarding production methods, and VdT (Vino da Tavola), which means table wine.
Chianti Classico wines are premium quality, DOCG wines made in Chianti Classico sub-region, in the middle of Chianti. Wine enthusiasts are probably familiar with the Chianti Classico symbol, the black rooster (Gallo Nero). Characteristics of Chianti Classico wines are floral notes in the aroma and dry, harmonious flavor with tannin. Chianti Classico Riserva wines are made of the best grapes and matured at least 24 months.
The story of Villa Giulia and Colle Sorripa
When we visited Colle Sorripa winery, Sari told us about the interesting history of Villa Giulia. The beautiful villa was built in early 20th century, and there has been vineyards and olive trees around the villa for a long time. In 1960's Carafa family bought the villa and 11 ha of wine fields. They renovated the villa, and produced quality wines and olive oil there for decades. One of three daughters of the family still lives in the villa, and part of the house is in rental use.
The current vineyards, 2,5 ha in total, were planted in 2001, and in 2008 a new winery building was constructed. The Carafa family hired an oenologist to help them with wine producing, and the same person, Claudio Gori, still continues in Colle Sorripa winery. Few years ago it was a time for a generation change, but none of the Carafa daughters was willing to continue the wine producing. Luckily it didn't mean the end for this winery, but a new era instead. Carafa family decided to rent out the winery and it's production, still keeping the ownership of the villa and the lands.
Sari Koponen, together with her husband and business companions rented the winery of Villa Giulia in late 2017 for five years, and they continue wine production under the brand Colle Sorripa, which is the name of the ridge on which the vineyards and villa are situated. Sari took us to a walking tour in the vineyards, and told that besides Sangiovese, also Cabernet Savignon and Merlot grapes are grown in Colle Sorripa.
Colle Sorripa wines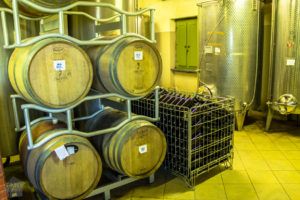 To get to know more about wine making in Villa Giulia, we entered the actual winery building. The production and storage rooms were cool even in the summer heat, and there was a faint scent of wine in the air. Sari told us that the grapes are harvested in late September or early October, when sweetness and acids are in best possible balance. Then the grapes are cleaned and crushed with a mechanical presser. The fermentation process of the mix of juice, skins and seeds, called must, begins right away because of the natural yeasts that there are in the skins of the grapes, but also industrial yeast is used. The wine must is then fermented for roughly two weeks in a large container. The grape skins tend to rise to the surface of the must, so they need to be mixed back in twice a day; otherwise the wine wouldn't get the beautiful, dark ruby red color.
When the fermentation period ends, the wine is transferred into maturation containers. During the second fermentation the taste of the wine turns smoother. Wines are aged either in oak barrels, steel barrels or in bottles. When making quality wines, oak barrels are often preferred since they give the wine a more round flavor and decrease the amount of tannin. After the aging period, the wine is then clarified, stabilized, filtered and bottled.
The main products of Colle Sorripa are the three quality red wines that are introduced below. However, they have also recently started producing white and rose wines as well, and Le Tre Dame Bianco and Rosato by Colle Sorripa are now also available from the winery.
Villa Giulia Chianti Classico Riserva
95 % Sangiovese, 5 % Cabernet Savignon, alcohol content 13,5 %
Aged 18 months in French oak barrels, then another 5-6 months in bottles
5 000 bottles per year
Beautiful ruby colored, smooth, warm and delicious wine with vanilla, hints of black pepper, and mace in the aroma
Villa Giulia Il Matteo
50 % Merlot, 50 % Cabernet Savignon, alcohol content 14 %
Aged 12-18 months in Hungarian oak barrels before mixing, then 2 months in steel container and 5-6 months in bottles
5000 bottles per year
We didn't taste Il Matteo, but it's a quality wine with dark berries, roasted coffee and chocolate aromas
How to book wine tasting in Colle Sorripa
Villa Giulia and Colle Sorripa winery are situated in San Casciano In Val di Pesa, just about 25 km south from Florence, in the middle of very beautiful Tuscan landscapes. The winery is four kilometers out of the town center, so the easiest way to reach it is by car.
You should book the wine tasting beforehand by contacting Sari Koponen, either through Colle Sorripa Facebook page or via phone (+39 3355422337). Wine tours are available in English, in Italian or in Finnish. Villa Giulia also has a webpage, but it's only in Italian at the moment.
Have you traveled in Tuscany and tasted the local wines, maybe even Chianti Classicos? Share your experiences in   the comments!