New adventures awaiting – travel plans for winter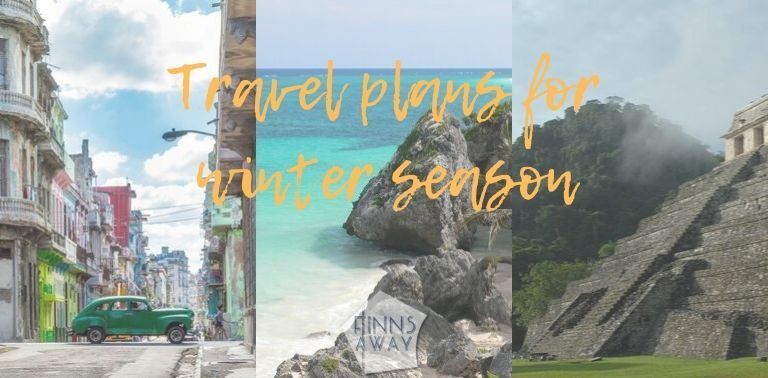 After over two years of traveling mostly in Europe, it's time for new adventures across the ocean! As written earlier this year, in a post about plans for FinnsAway Season 3, we wouldn't mind staying the coldest months of the year in more tropical environment than Europe this year. The original plan in the spring was to "fly to Mexico around October, and possibly visit some other Central American countries, like Guatemala, Belize, Honduras and El Salvador, or Caribbean islands like Cuba and Dominican Republic during the winter". We still don't have a solid travel plan ready for the whole winter season, but we will begin this Latin America Adventure from Cuba in October! We are very excited to go, but had quite some bad luck with our long-haul flight just this week. We had a Thomas Cook flight to Cuba booked for 4th of October, but now, it will never take off.
Cancelled flight due the Thomas Cook bankruptcy
The tragic collapse of Thomas Cook, the oldest travel agency of the world, that happened in 23rd of September is a worldwide disaster. Thousands of people lost their jobs, holiday trips of hundreds of thousands of people were interrupted or cancelled, and the financial issues are a huge mess. Our sympathies are with those who suffer the situation the most, but also we ourselves were affected by the bankruptcy, as we had tickets booked from Thomas Cook. We had a flight from Paris to Varadero via Manchester, bought via third party booking service. Now the flight to Cuba will not take off. It also seems that we have no way of claiming our money back, not even from credit card company, since, unlike usually, we didn't pay the flights with a card. So the money was gone, and the long-haul flight, that was scheduled already for the next week, was gone. So what did we do?
We didn't want to give up on the plan to go to Latin America, and started to search for affordable flights with short notice, using SkyScanner search tool, that is our favorite for finding good flight deals. At first it looked like the best option was to fly to Mexico instead of Cuba, but then we stumbled on the last minute offers of TUI Belgium. TUI Airways is mostly flying package holiday tourists on charter flights, but also sells plain flight tickets. The last minute deal to Cuba was pretty good, only 149,99 € per person, plus additional 23 € for luggage, and this price even includes some meals. Finding such affordable flight meant no financial disaster for us, and the flight leaves only two days later than the original one we had with Thomas Cook.
Getting to know Brussels
With the flight to Cuba leaving from Brussels now, we will also have a chance to explore the capital of Belgium for a couple of days before the departure. We have visited Belgium actually only once before, on a holiday road trip in Europe over four years ago. Back then we only stayed for a couple of days in the southeastern part of the country, so it's great to finally see also Brussels. To get there, we will first take a train from Colmar in Alsace to Paris (had this booked already for the Thomas Cook / FlyBe flight from Paris) and then a bus from Paris to Brussels. Our car will again spend the winter in Alsace, waiting for new road trips in Europe in the future.
Initial plan for Latin America
We will stay in Cuba for almost three weeks, staying some days in Varadero and the capital Havana, and otherwise traveling around the island. Internet connections in Cuba are poor and/or expensive, so we will be mostly off-line, focusing on exploring and getting to know this unique country with strong communist regime, lots of regulations and rationing, and low standard of living in general. We will definitely stay outside of international holiday resorts, and book accommodations from locals. There are no actual hostels in Cuba, but a huge amount of guesthouses called casas particulares, a concept of local people renting rooms of their house and also preparing meals for visitors. All guesthouses of course have to have a permit from government to accommodate tourists. At the moment the amount of foreign tourists in Cuba is on low level, partly because it's low season until December, but also because of the travel restrictions for US citizens. This means that the prices are lower than usual, and a room in a casa particulare should costs around 10 to 15 euros. The meals are affordable also, and if we can find local options for traveling around the country (instead of rather expensive tourist buses or renting a car), it should be well possible to maintain our normal daily budget also in Cuba.
From Cuba we will then fly to Mexico in late October. Would have loved to take a ferry instead actually, and explore some other Caribbean countries before arriving on the mainland, but to our disappointment, there are no ferry connections to or from Cuba. So flight it is then. Mexico is a huge country, and our first destination is Yucatan Peninsula by the Caribbean Sea, in the southern part of Mexico. From there we will most probably take a bus to neighboring Guatemala, and make a few weeks tour also visiting Belize, Honduras and El Salvador in December. Around new year it's time to head to northern Mexico, most probably using buses. The plan is to explore new destinations while traveling slowly and stop for a bit long time to work every once in a while. We are checking options for longer house-sits, and the plan is also to take an intensive course on Spanish language at some point. We know enough to survive, but it would be great to be able to discuss with locals better.
This is the coming winter season in a nutshell, Latin America is awaiting! In case you have some favorite destinations or killer travel tips for us, please share in the comments!