Sofia, the historical capital of Bulgaria
We started the FinnsAway Season 3 from Bulgaria in mid April 2019. Our visit to this beautiful country was really short this time, but we managed to see both Burgas on the coast of the Black Sea, and the capital Sofia during our four days stay. From Sofia we also made a day trip and a hike up in lovely, mountainous Vitosha Nature Park. Most of the travelers coming to Bulgaria head either to the beaches or to the mountains, and the capital is a bit underrated as a travel destination. Sofia is a lovely city though, and well worth a few days stay. It's a rather cold city during the winter, but in April the spring had arrived, the weather was already quite warm and sunny, and there were flowers everywhere! In this post we shortly introduce Sofia and Vitosha Nature Park, with picture galleries of course.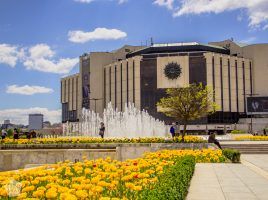 This was actually our second time in Sofia, as we visited it back in 2010 on a few days mini-holiday. It's amazing how Sofia has developed since then, and the feel of the city for sure is now much more European, and more vibrant. The city center has seen big changes, and when the new metro stations were constructed in 2010-2012, they discovered remains of a Roman city right under the present day city center! The structures now form an open air museum and archaeological site right next to (and below) the main streets of the city. The architecture in Sofia in general is a mix of different eras and cultures, and there are a lot of impressive buildings, including several old churches. Sofia is also a very green city – there are several big and beautiful parks, where you can just walk around or have a picnic.
In this post:
Sightseeing in Sofia
Alexander Nevsky Cathedral
Banya Bashi Mosque
Ancient Serdica
Central Baths and Fountains
National Palace of Culture
Vitosha Boulevard
Hiking in Vitosha Mountains
Sightseeing in Sofia
The downtown Sofia is compact and best explored on foot or on a bicycle (there are rental bikes available). Most of the main sights are right in the city center, and easily accessible. There are also informative sign posts pointing to the sights. Reserve at least one whole day for seeing the city center, and more if you'd like to not just walk around, but go to museums and explore the whole Ancient Serdica site also.
Alexander Nevsky Cathedral
Alexander Nevsky Cathedral (in the cover picture) is the most visited sight in Sofia. This cathedral is one of the symbols of the city and whole Bulgaria actually, and one of the largest Eastern Orthodox cathedrals in the world. It was built in Neo-Byzantine style during years 1882 to 1924, in memory of soldiers that died in the Russo-Turkish war in 1877-1878. The cathedral has a gold-plated dome, and an over 50 meters high bell tower. The church is open fro visitors free of charge, and the daily opening hours are from 7 am to 6 pm.
Banya Bashi Mosque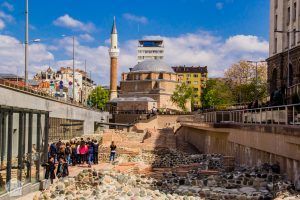 Banya Bashi Mosque is the only functioning mosque left in Sofia, and also a very old one. It was built in late 16th century, and designed by Mimar Sinan, one of the most appreciated Ottoman architects. We only admired the mosque from the outside, but have read that it's even more impressive in the inside. The mosque can be visited free of charge outside of praying times from 5 am to 8 pm, just remember to dress respectfully and take your shoes off.
Ancient Serdica
The archaeological complex of Ancient Serdica is what remains of a Roman city, right under the present day Sofia. The complex was opened in April 2016, after five years of excavation and constructions works. Ancient Serdica covers an area of 9 000 square meters, and includes remains of eight streets, an early Christian basilica, a late medieval church, baths and houses. Small parts of Serdica are visible from the street level as an open air museum, but most of the ruins are beneath the surface and under large glass domes. You can explore the ruins free of charge, and there are informative signs in English.
Central Baths and Fountains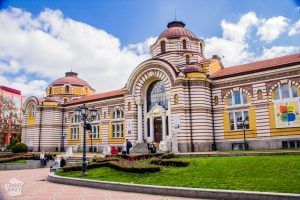 The building of Central Mineral Baths is one of the most beautiful in Sofia, and one of the landmarks of the city. It was built in early 20th century, and the design is a mix of Vienna Secession style and traditional elements from Byzantine, Bulgarian and Eastern Orthodox styles. The facade of this impressive building is decorated with colorful ceramic mosaics. As the name gestures, it once was home to thermal baths. The public bath was opened in 1911, and in use until 1986, when it was closed due to its poor condition. After that the building was first empty, but later renovated to a regional history museum, that was opened in 2015.
On the other side of the street you'll find an area of drinking water fountains, from where the citizens fill up their water bottles. Do the same, but note that the water isn't refreshingly cool, but instead very warm, as it comes from the ground with a temperature of 33 Celsius. Sofia has been known for its thermal waters for ages. Already the Romans bathed in the thermal springs and drank the water, believing it had healing powers. During the Ottoman rule a hamam was built and used for centuries, and the Central Baths building was constructed right on top of this old Turkish hamam structure.
National Palace of Culture
The massive structure of National Palace of Culture can be seen from afar. Built in socialistic style, it can look somewhat offensive at first, but the location in the middle of a green park, surrounded with flowers and fountains, softens the brutal architecture. The National Palace of Culture, in short called NDK, is a multi-functional concert hall and congress and exhibition center and hosts a wide variety of events. It was built in 1981, in celebration of the 1300th anniversary of the Bulgarian state.
Vitosha Boulevard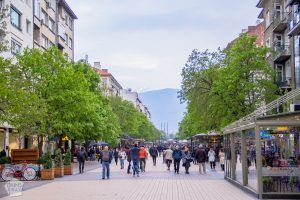 The walking street called Vitosha Boulevard is the heart of city life in Sofia. Lined with charming cafés, restaurants, pubs, small shops and fashion outlets, it's a very lively street, kind of like a second living room for the citizens. The Boulevard runs south from St Nedelya Square to Park National Palace of Culture, and continues as a road all the way to the Southern Park.
Hiking in Vitosha Mountains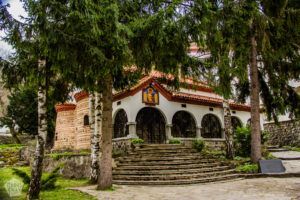 Vitosha Mountain Range and Nature Park is situated very close to Sofia, in fact just 10 km south of the city. That means that the mountains, that are up to 2290 meters high, are clearly visible from the city, offering a very nice setting for photographs of the city on clear days. Vitosha is the main outdoors area for the residents of Sofia, and home to some great hiking trails and beautiful small towns and villages on the foot of the mountains.
When in Sofia, we made a day trip to Vitosha Nature Park and an 11 km hike up in the mountains. To get there, we first took a metro to Vitosha station and then a bus to Dragalevski. Bus 93 drove through the village and all the way to skiing lifts (Lifta Dragalevtsi) close to Dragalevski Monastery. We mostly followed marked trails up, walked past several mountain huts (closed in April still), and even found snow when reaching elevation of 1,500 meters. Towards the end of the hike we headed to Boyana waterfalls and then down to Boyana village, that is home to famous fresco-filled Boyana church. From Boyana it was easy to take a bus (number 64) back to Sofia.
Practical information
The currency used in Bulgaria is Bulgarian Lev (BGN), and the exchange rate to euro is roughly 2:1 (April 2019). Sofia is a very affordable, as is Bulgaria in general, one of the cheapest countries in Europe actually.
To get to Sofia from airport, and to move longer destinations in the city area, the best way is to take a metro. Tickets cost just 1,60 Lev for a ride. Sofia Metro is surprisingly modern, and consists of two lines and 35 stations.
Regarding accommodation, there is everything from dorm beds and private rooms to luxury hotels available. We stayed in basic but comfy Airbnb called Old town center cozy room, recommended if you'd like to find a budget room with central location. (If you  are new to Airbnb, join now via this link and get a discount for your first stay!)
Sofia is probably the best place in Bulgaria to dive into Bulgarian food culture. There are plenty of restaurants serving hearty local dishes, as well as international favorites. Sofia is also the craft beer capital of Bulgaria, with bunch of small beer shops / pubs selling local products as well as craft beers from abroad.
Free Sofia Tours organizes city tours and excursions free of charge, and many visitors have found them very useful (we didn't try them, or well, didn't even knew there was such free tours available). Check out also their informative web page with information about the tours and a lot of articles about Sofia and Bulgaria.
Read more about traveling and hiking in Bulgaria: All posts in category Bulgaria