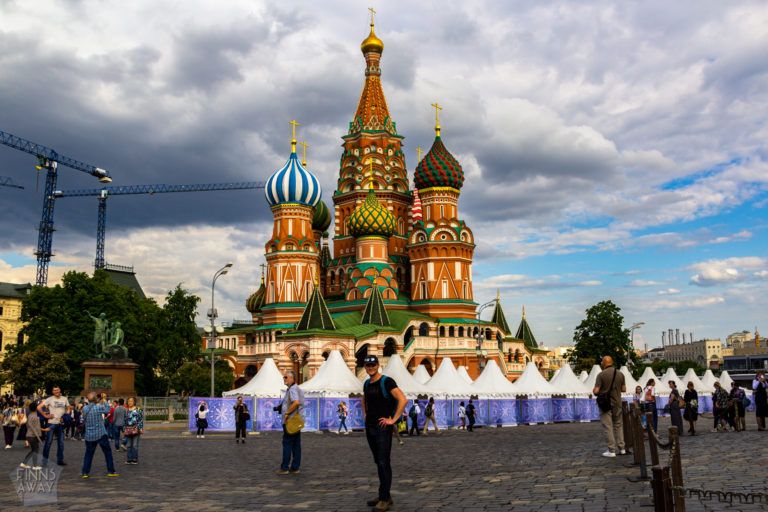 Even if we come from one of the neighboring countries, we had never visited Russia before this year. There is no particular reason for that, besides that you need to get a visa to cross the border, and maybe also the fact, that the country is so huge that just a couple of weeks holiday is nearly not enough for exploring it. However, in May 2018 we were selected as participants in the first Follow up Siberia trip, and that meant that we made a press trip in the northernmost part of central Siberia. On the way there, we got to visit also Moscow, the majestic capital of Russia.
Since we had less than a full day to spend in the city, we focused on the main sights in the city center. Already the metro rides in Moscow can feel like a sightseeing tour, as the Moscow metro is famous for it's gorgeous metro stations. When in the city center, we headed first to Red Square, the hugely popular central square of Moscow and a UNESCO World Heritage site. Red Square, with the surrounding historic buildings, is one of the must-sees in the city. The main sights include Saint Basil's Cathedral, Lenin Mausoleum, Kazan Cathedral, GUM department store and State Historical Museum.
The wall in southeastern side of the Square is part of Moscow Kremlin fortification. The Kremlin Wall with towers surrounds this huge complex of palaces and cathedrals. The Grand Kremlin Palace used to be the Moscow residence of the tsar and nowadays serves as the residence of the President of the Russian Federation and as a museum. On our short tour we also walked past the historic Bolshoi Theater and countless of monuments and statues, but would have needed several days to really dive into this huge metropolis.
When coming back from Siberia, we had another few hours in Moscow before our flight to Riga. This meant that we had a chance to meet our Finnish friend in Lomonosovsky District, and do some sightseeing in that area. We walked around the main building of Moscow State University, which is one of the Seven Sisters, majestic skyscrapers designed in the Stalinist style, strolled in the huge parks and admired the view over Moskva River from the hilltop observation point.
For anyone planning a visit to Moscow, note that the city is huge, and there is so much to see, that just a couple of days is simply not enough. We will definitely go back one day, most probably as a part of traveling through Russia along the world-famous Trans-Siberian trail.