Road trip from Slovakia through Hungary to Romania
After spending almost two weeks in beautiful Slovakia, it was time to continue our road trip through eastern Europe. Next actual destination country is Romania, where we drove through Hungary. Since we were not in a hurry, we took some time to explore Hungary a bit more than just passing by. Definitely also that country has a lot to offer for travelers and wine-lovers alike.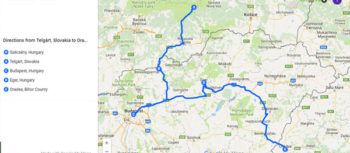 When in lovely Telgart in Slovakia, we quite randomly checked accommodation options near to border on Hungary side, and ended up in small town of Szecseny. We stayed for two nights in a homey and spacious apartment with garden (and super-friendly owner!), and took time for sports and blogging. We visited the town center only shortly for shopping and gym, since we had a perfect kitchen in the apartment and we cooked all meals there.
Then we headed to the awesome Budapest, the capital city of Hungary. After spending quite some time in small rural towns, the majestic buildings and lively streets were such a pleasant sight. We have visited the city couple of times before, and can warmly recommend Budapest for few days holiday destination. Or why not for a longer-term base for living and working, the city also has lot to offer for digital nomads!
We booked accommodation via Airbnb for four nights, and met with some friends and ex-colleagues who either live in the city or were on a trip from Finland. Some sightseeing, laptop time, visiting the Budapest wine festival as bloggers, eating out, popping in Transylvanian festival and tasting some new beers in Pest center. Pretty perfect short city holiday 🙂
Related post: Budapest Wine Festival
When heading east from Budapest towards Romania, we chose to visit the famous wine region Eger. We found a nice camping site, Tulipan camping, close to the Eger city center and the wine cellars where producers introduce and sell their wines. The wine village is called Szépasszony-völgy, which translates to "Valley of beautiful women", and there you can find a circular road with small wine cellars and some restaurants as well. Conveniently, there was some folk festival ongoing the time we visited, so had a chance to roam from one wine cellar to another while artists were performing on the stage in the middle of the festival area. So again some wine tasting, and despite the fact that Eger is best known of the red wines, we both preferred the fresh and dry whites from the area. Eger surroundings are full of vineyards and the scenery is just lovely, went running two times basically next to the endless rows of vine heavy with grapes.
Check out the picture gallery from this part of the road trip. Next it is time to get ready to hit the mountain trails of Romania, hoping that we won't walk into one or more of the bears that are also roaming the slopes!