Hiking in northern Czech Republic
When discussing about traveling and hiking in Europe, Czech Republic usually doesn't come up as an outdoor destination. Mountains there are not very high compared to the neighboring countries, but when on a road trip around the country, we learned that there actually  are several great options for trekking. In this post we introduce Krkonose and Bohemian Switzerland National Parks, as well as Bohemian Paradise Geopark. Trekking in these destinations can take you to amazing rock formations, to mountain trails following the Polish border, to majestic castles, to deep canyons and to peaceful pine forests.
Navigate the post:
Krkonose Mountains and National Park + our hike
Bohemian Switzerland + our treks
Bohemian Paradise
Krknonose Mountains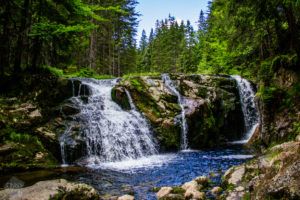 Krkonose, also known as the Giant Mountains, is a mountain range in north Czech Republic and in south-west Poland, and part of the Bohemian Massive. The area offers great possibilities for both skiing in the winter and hiking and cycling during the summer season. The highest peak is Sněžka (1 603 meters), and the main mountain ridge runs from east to west and forms the border between Poland and Czechia. There is a secondary ridge on Czech side, and several rivers with picturesque waterfalls dividing the ridges. Winters in this mountain area are cold and snowy, but summer days can be really warm, though it's often windy and foggy in higher altitudes. There are plenty of old mountain huts, that used to serve as shelters for shepherds. Many huts have been expanded to accommodate hikers, or replaced by new, well-equipped hotel buildings.
Krkonose National Park
This oldest National Park in Czech Republic was founded in 1963, and is listed as a UNESCO Biosphere Reserve site. The nature in the alpine range is wild and beautiful, with diverse flora and fauna. The easiest way to explore the area is by own car, but there is also regular public transportation to many towns in Krkonose. Shuttle bus services even take tourists on top of some of the mountains. Ski resort towns Špindlerův Mlýn and Pec pod Sněžkou are great locations for making day hikes (or why not also longer treks) in the National Park. There are also chair lifts available for rides up to the mountains. For more information about Krkonose, check out the official tourist website.
Our hike in Krkonose in June 2018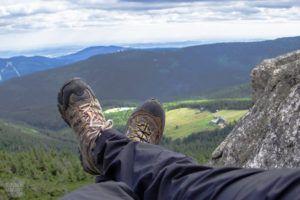 Our original plan was to camp in Krkonose, but even in late June the nights up in the mountains get so chilly, that sleeping in a tent with our summer gear would have been too cold. At the time we were based in a camping site in Jicin, and decided to make a day trip and a long day hike in the mountains. There are of course several hostels, hotels and cabins in Špindlerův Mlýn and other resort towns, but the price level compared to our cabin in Jicin was pretty high. So we drove from Jicin to Špindlerův Mlýn (730 meters above the sea level) in the morning, searched a reasonably priced parking lot (50 Cr per day, which is roughly 2 €), put on our hiking boots and headed towards the peaks.
We didn't have a proper hiking map, but we took a pic of one or the map boards in the town center, and had an off-line map app with GPS in use also. Trails in the area are well marked, but some sort of map is always a must when hiking on mountain regions. We chose to walk up along the blue-marked trail that runs next to river Elbe, that flows through Spindleruv Mlyn. The first kilometers are very easy, walking along an asphalted cycling track, before the actual trail begins. Then the trail goes along nice forested paths before somewhat rocky and steep ascent to the imposing building of Hotel Labská bouda in 1340 meters (also known as Elbe Mountain Hut). There are beautiful views on the way up, including a high waterfall.
After a break in the sunny terrace of the hotel, we headed further up the hill along green-marked, wide path to check the Spring of the river Elbe. Labe Spring is a symbolic place with a stone wall with signs of all the towns along river Elbe. It's a popular site for tourists, not just hikers (there are buses up), but there's not that much to see really. We were after more isolated hiking trails up on the peaks, but didn't realize, that we could have reached the Czech-Polish Friendship Trail, that goes in total 28 km along the main mountain ridge, by taking yellow-marked trail from Labe Spring. Instead we walked back to the hotel and towards the ridge from there via Martinova bouda, another mountain resort.
From Martinova hut, it's just 1,5 kilometers to the border and the red-marked Friendship trail. We followed it east for few kilometers, on the Polish side at times, reaching the highest point of the hike (1 415 meters). The trail on top of the ridge offers some great views over the peaks and valleys. We turned back down towards Špindlerův Mlýn after reaching Petrova Bouda, another hut in crossroads of walking and cycling paths. We took the yellow trail down, which is also a MTB route and goes partly along downhill skiing slopes before reaching river Elbe. We crossed a side river along a small footbridge, and walked back town on other side of the river than we trekked up. All in all it was a 26,5 km hike with 919 ascent meters. Walking time was 6 hours, total time including breaks 7 hours.
Bohemian Switzerland National Park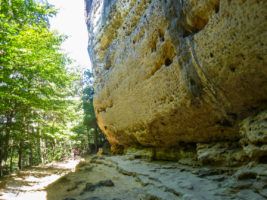 Bohemian Switzerland, also known as Czech Switzerland or České Švýcarsko in Czech, is a wonderful outdoors destination in north-western Czech Republic, next to German border and by Elbe river. It covers the Czech side of Elbe Sandstone Mountains, a mountain ridge rich with interesting, towering sand stone formations deep, rocky river canyons and great trails, part of them including short boat rides. Bohemian Switzerland is adjacent to Saxon Switzerland National Park in German side of the border.
The environment in Czech Switzerland is often described as being like out a fairy tail, and yes, it is charming and diverse. Hike down and along Kamenice river takes you through wonderland of lush vegetation, giant rocks and deep stone walls. The small towns and villages in the area are sights as themselves, like picturesque Hrensko situated where Kamenice river meets Elbe. For more information about this national park, check the official website.
Pravcicka Gate and Kamenice Gorge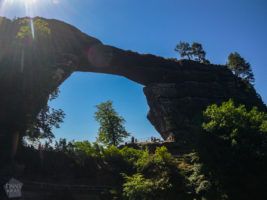 Probably the most popular sight in Czech Switzerland is Pravčická brána or Pravčická Gate, a natural stone bridge and the largest natural sandstone arch in Europe. It is a spectacular site and the trails there go past some photogenic rock towers. Definitely worth a visit, but don't skip the gorges of Kamenice river either. There are hiking paths running down in the canyon, but parts of it are only accessible by boat. The boats operate from 9 am to 5 pm, and the price for one ride (in 2018) is 2,5 € (1,5 € for kids). Take the operating times into account when planning your hike, since without boat ride it's simply not possible to hike through the canyons.
How to plan your visit
Many tour operators arrange tours to Kamenice Gorge and other attractions of Bohemian Switzerland from Prague, but it's easy to explore it on your own as well. If you don't have your own wheels, public transportation is a cost-efficient option for tours. Consider taking a train from Prague to Decin, and continue with a bus to Hrensko, which is a great base for exploring Bohemian Switzerland. It's also possible to travel by bus from Prague. You could start a hike directly from Hrensko, but taking a local bus to Mezni Louka takes you closer to trails to Kamenice canyons.
You basically could see the main sights during a day trip, but if time is not an issue, we recommend to stay a bit longer to really have time for hiking and enjoying this beautiful area of Czech Republic. There are plenty of accommodation options from fancy hotels to local bed and breakfast guesthouses in the villages and camping sites. We stayed in Camping Mezni Louka, a popular site just next to hiking routes and Hotel Mezni Louka.
You can visit the national park and hike in there any time of the year, but from late spring to early autumn is probably the most pleasant time, with lush green vegetation and warm temperatures. Winter with snow for sure adds its own magic to the views though, and less visitors. For hiking routes and estimated times, check the picture of a hiking map in the gallery. For example a circular hike from Mezni Louka along the blue trail to Kamenice river and canyons, including both boat sections, and back along the yellow trail (with a short section along the road) takes roughly four to five hours, depending on the possible waiting time for the boats.
Our treks in Bohemian Switzerland in July 2018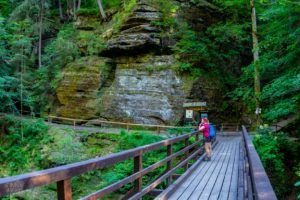 We arrived in Mezni Louka camp site in late afternoon, and headed to the Kamenice river, along the green marked trail / road to Mezni village in the evening. The road to Mezni is two kilometers long, and then there is a deep descent to the canyon. When in down there, we hiked along the river to both directions, until the boat piers. As it was already 6 or 7 pm, we couldn't go further, but the views in the canyon and along the paths that go past and under huge boulders, were beautiful. We saw no other hikers, so that is one positive side in explore the canyon outside the operating hours of the boats.
We had made further plans for the next day, so needed to leave after only one night in the national park. As we didn't want to miss the Pravčická Gate, we decided to make a morning trail run to the stone bridge. We first ran 3,7 km along the main road towards Hrensko, until the starting point of the red marked trail up to the bridge. Then is was a partly steep 4,4 km ascent (from 220 meters up to 421 m), but the trail is in very good condition also for running. The further up we got, the better the views, and the stone bridge itself truly is gorgeous.
The red trail continues up in the ridge for about 3,5 more kilometers, and leads past some majestic sand stone rock formations, before the last two kilometers down to Mezni Louka. Our route was all together 11,4 kilometers, a nice start for the day! This route would work perfectly for hiking as well, and could be combined with the yellow train between Mezni village and the crossroads where the trail to the stone bridge begins.
Bohemian Paradise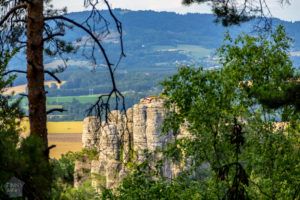 Bohemian Paradise, also known as Český Ráj, is yet another gorgeous nature area with sandstone formations, roughly 100 kilometers northeast from Prague. It is a protected landscape area and a UNESCO Geopark. There are no clear borders for the area, but it's roughly inside the triangle of towns Jicin. Turnov and Mnichovo Hradiště. The main attraction are the rock pillars that form so-called rock towns. There are also several castles, small rivers and deep forests with trekking paths.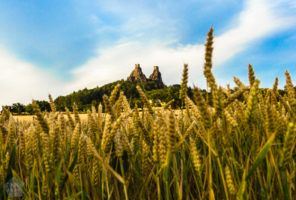 We visited Bohemian Paradise when staying in Jicin. We didn't do any longer hikes in there, but visited some of the attractions like Gothic Kost Castle, impressively posing cliff-top ruins of Trotsky Castle, 13th century Valdštejn castle, and Prachov and Hrubá Skála Rocks. Hruba Skala rock town (Hruboskalsko in Czech) can be easily reached along trekking paths from the village by the same name. There you can also visit Hrubá Skála Chateu, that is situated on top of a sandstone rock and nowadays serves a hotel and restaurant.
There are a lot of hiking paths crisscrossing in the Bohemian Paradise area, but there seems to be not that much information or hiking maps available online. However, mapy.cz is pretty useful resource, showing paths and also sights and landmarks. In Bohemian Paradise it's possible to make short treks, long day hikes or even multi-day hikes combining the routes. Trails are well marked, and there are maps available in tourist information centers in nearby towns, so not that much planning is needed beforehand. Jicin and Turnov, and also some smaller towns around Bohemian Paradise, can be reached easily by public transportation from Prague and from several other cities in Czechia.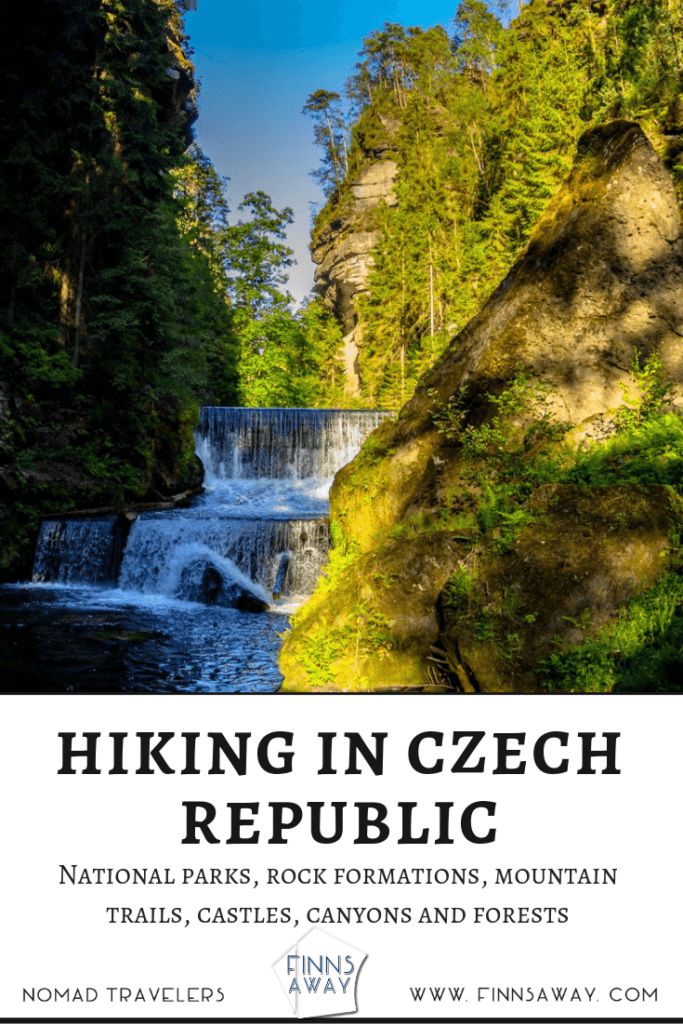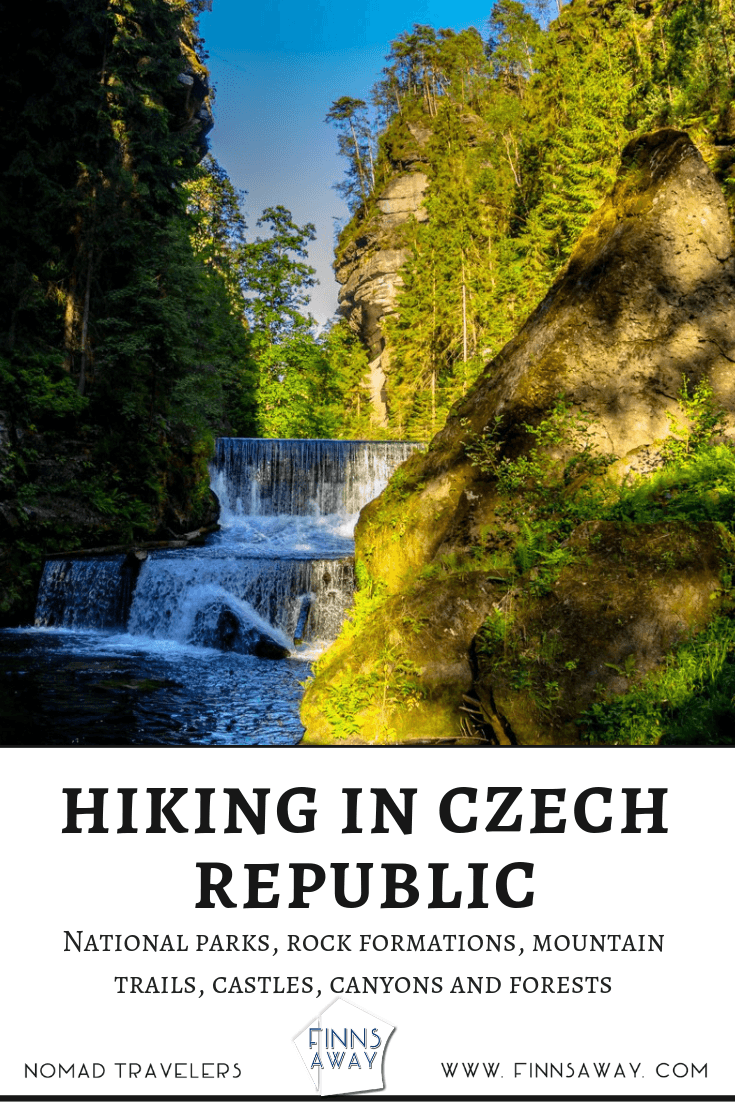 Our resources
and Discounts