Hiking in Italy: Monte Chiampon day hike
Mountainous north Italy is a heaven for hikers; Italian Alps, Dolomites and Western Julian Alps offer breath-taking mountain views and are home to several long distance hiking trails as well as plenty of shorter walking paths. There for sure is a trail for everyone, from leisure-walkers to professional climbers. In this post we introduce a long, circular day hike on Julian Alps in northeastern Italy, from Gemona del Friuli to the summit of Mt. Chiampon and back.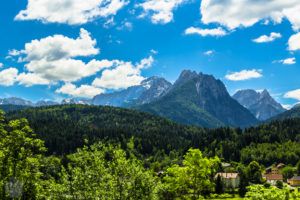 On our road trip from Athens to Prague through Italy and Austria, one of the main targets was to hike in Dolomites for few days. Well, once again we were on a clock, and it turned out that there was not enough time for multi-day hikes, unfortunately. However, we planned the route so that we were able to admire the mountain scenes from along the drive, and made one longer day hike in Western Julian Alps before continuing the journey to Austria.
Gemona del Friuli
Gemona del Fiuli is a small town in the middle of Friuli-Venezia Giulia region, in the northeastern corner of Italy. It's situated in the valley of Tagliamento river, and surrounded by mountain ridges both east and west. Gemona is a pleasant base for hiking trips; it has a beautiful old town with a handsome cathedral and accommodation options from camping sites to hotels. We stayed in Camping Il Poppi just outside the town center. Their reception / restaurant building was also a nice source of information leaflets and maps for hikes and trails in the area.
Circular hike to Mt. Chiampon
This is the itinerary of our 8 hour day hike from Gemona to the summit of Monte Chiampon and back, making a circular trail of 19 kilometers, with over 1 500 meter vertical ascent. The hike goes along official, marked hiking trails, and doesn't require any special mountaineering equipment (in summer). Mt Chiampon is the westernmost mountain of a mountain ridge that runs east towards Slovenia.
Ascend to Sella Foredor pass
We started by walking towards the centro historico (old town) of Gemona from the camping area, and turned up towards the mountains along streets Via del Cappuccini and Via Scugjelars. The walking path parts the road in the crossroads (or more just a 90 degree curve) of Via Scugjelars and Via Vincenzo Lucardi. Soon you'll see official trail marks of trail number 713. The first part of the trail goes up crossing a small, zigzag road (Strade di Foredor) several times, and then through forest next to a small stream and a MTB trail. There is a fountain by the stream on the way up; the water was cold and refreshing and we filled up our water bottles from it.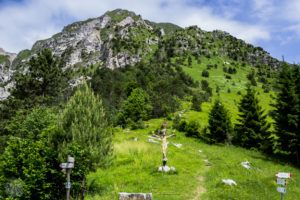 After walking roughly 5 km towards the mountains with an ascent of around 800 meters from Gemona, you'll reach the Sella Foredor pass (1 089 m). This climb up to this pass, that is between Mt Chiampon on north side and lower Mt Cuarnan on south, is somewhat steep, but still easy to walk all the time. For us it took less than 2 hours from Camping Il Poppi, and 1:40 from the corner of the old town. Scenery was rewarding already on the way up; you can see the Gemona village and surrounding mountains behind you.
From the saddle to the summit
We had a short stop in Sella Foredor before continuing up to the summit. The saddle is a beautiful spot, a green mountain meadow between the peaks. From the pass you could also choose to make a shorter hike by walking on top of Mt Cuarnan along trail 715, and then circling back down along trail 717. We decided to stick with our plan to conquer the higher peak, and continued along trail 713 towards the Mt Chiampon summit. Soon after leaving the saddle behind, the grassy green slopes turn to more steep and rocky terrain, and at times, especially near Passo della Signorina (1 359 m) the trail is a bit demanding. There are some steel cables to help the climb, and it's not particularly technical trail, but maybe not suitable for beginners. One of the info leaflets that we gathered actually states, that this climb is suitable only for experienced hikers, but it was not that challenging, at least in good weather. During winter the situation for sure is different, and the memorials for deceased hikers on the way up are an effective reminder of the unpredictability of mountains.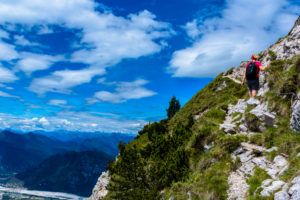 When getting closer to the summit, we were lucky enough to see several mighty eagles, flying right above us (didn't manage to take proper picture though, as our camera was in the backpack at that moment, of course…). Overall the flora and fauna in these mountains is diverse. Besides eagles, you could spot hawks and owls, and deer, foxes and smaller mammals, just mentions some species. The ascent from Sella Foredor to the summit of Mt Chiampon is roughly 630 vertical meters, and the distance is 2 km. It took us almost 2 hours to reach the peak, so it's not like a walk in a park. For sure it would be possible to climb it faster, but the views are so cool that it's a must to stop every ones in a while for taking pictures and just admiring the surrounding mountains.
On top of Mount Chiampon
When finally on the top, we could see peaks of Carnic Alps, Julian Alps and Dolomites, and as the day was clear, also all the way to the Adriatic Sea. The views are really something special, we could have just stayed there for hours. But to be back down before dark, we needed to continue after roughly 30 minutes break.
Trail 713 continues down in the northern side of Mt. Chiampon. After the first steep descent, it quite soon dives into forest and behind the next ridge, which means that on this side of the peak the views are not as rewarding as in the southern side.
Descent back to Gemona del Friuli
The trail down is mostly well-marked, but when coming out of a forest trail to some kind of grazing land area, in elevation around 1 250 meters, we lost the trail for a moment and needed to walk couple of loops to find it again. So be observant, the marks that are painted on rocks can be a bit hard to spot. That part of the trail was also a bit irritating to walk, with muddy farm road, cow manure and stinging nettles. Luckily the path gets better quite soon, and after a short walk in the forest, the descent continues along small river and another MTB trail. The scenery in that part of the trail was momentarily like from an old western movie with rugged rocks and not much vegetation around.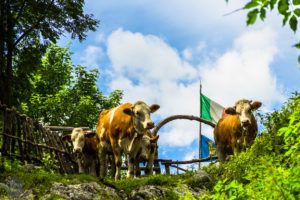 The last part of the hike is about walking around Mt. Cumieli, a low hill just next to Gemona. You could continue towards Tagliamento river, walking back to the city around the north side of the hill, or turn south before it and approach the village between the hill and the mountains. We chose the latter option, and even with tired legs really enjoyed the last few kilometers along small roads and paths that run in the middle of lush vegetation.
All in all the descent took around 3,5 hours, which means that the whole 19 km hike with 1 581 m ascent took 8 hours, including roughly 45 minutes of breaks. We have hiked quite a lot during the years, and have to say that this was one of the best hikes ever! When doing this trek in mid June, we hardly saw any other hikers, but surely the trail is more popular later in the summer. The views are stunning, the path is mostly very nice and in good condition, the trail is well marked, and the length and the ascent are challenging enough for a day hike. Warmly recommended!
Disclaimer
When we made this hike, the weather was perfect with clear skies and good visibility during the day. But even if hiking on a beautiful summer day, you need to be prepared for quick changes in the weather. Always carry a windproof jacket and some long sleeves, and of course enough water, a map, sun screen, hat, first aid kit, mobile phone and a torch. Good hiking boots are recommended, even if the terrain is mostly easy to walk, the climb up to the summit and down from there is partly rocky.
Have you ever hiked in this part of Italy? Share your thoughts in the comments!