Driving through the Baltic countries to Poland
When continuing our road trip from Estonia towards Slovakia, we decided to stay only few days in Latvia and Lithuania to save some time. We had visited both countries several times before, but of course there would have been still a lot to see and do. However, as we wanted to reach the mountains in Romania before the autumn would turn too chilly, we needed to hurry through the Baltics. In Latvia we chose to hit some hiking trails, and ended up spending couple of days in Cesis and in Gauja National park. In Lithuania we stopped for a couple of days in Kaunas, that is along via Baltica.
Related post: Hiking in Gauja National park 
General info about Via Baltica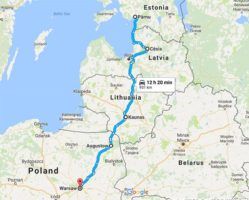 At least in Finland many people tend to think, that Via Baltica through the Baltic countries is dangerous, and the roads are in poor condition. We have made the drive now twice, and would like to invalidate those rumors. Nowadays the main roads are mostly in good shape, and we haven't had any concerns about safety when driving through. Driving culture is maybe a bit more aggressive than in Finland for example, but still quite flexible. There were no long queues anywhere, but for fact there is a lot of truck traffic, and therefore passing situations are a common sport.
General speed limits on different roads are informed when crossing borders, so there are not that much speed limit signs by the roads. Thus it's not always that clear what the limit is in some areas. But by following the traffic (or using navigator), it's not that hard to figure it out.
From Latvia to Lithuania
We really like Latvia's capital Riga, but this time we decided to skip it, and continue straight to Lithuania. Since the weather forecast was close to perfect for next couple of days, we stopped in Kaunas, the second-largest city in Lithuania, and stayed in Kaunas Camp Inn, which was familiar for us from our Europe road trip couple of years back. The camping site is located next to the lake Lampedis, roughly 4 km from the city center, and there is a popular beach just next to the camping area. So some relaxing and sunbathing for a change, accompanied by some cold beer and excellent sushi from a nearby restaurant. And for counterbalance, a 10 km run mostly along the lake shoreline. We also found an outdoor workout area on the way.
Kaunas old town is compact and picturesque, so a walking tour is recommended. There are nice pedestrian streets, beautiful buildings and of course a castle and some churches. We had some dinner in one of the restaurants in the old town, and watched a thunder front with heavy rains move over the city. We headed back to the camping area by bus; several bus routes go by it, so it's fast and easy. And quite cheap as well, a single ticket costs 1 € and can be purchased when entering the bus.
Arriving in Poland
Skipping also the capital city of Lithuania this time, we moved onward to the small town of Augustow in the northeasternmost corner of Poland. The place was recommended to us by a Polish couple that we met in Kaunas camping area. Augustow is surrounded by large forest areas and lakes, rivers and canals. There are several routes mainly meant for biking, and a lot of water sport possibilities. City center was surprisingly busy even in Sunday evening, and it seems that Augustow is a popular holiday destinations for Polish people. We didn't spot that many international tourists, and actually most of the services and for example menus in some restaurants, were available only in Polish. But this town is definitely worth a visit if you happen to be close by!
Next destination is then Warsaw, where we will be staying a bit longer, taking some laptop-time updating the site, and planning the next steps of our nomadic adventure.