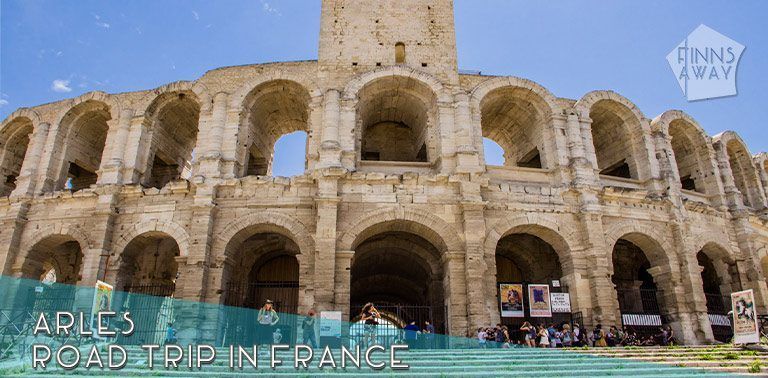 Provence area in southeastern France is filled with beautiful landscapes, historical towns and lovely little villages. Road trip, using the narrow, winding national roads, is the best way to explore Provence and enjoy the natural beauty of the area. One of our destinations in Provence was the city of Arles, 40 km south from stunning Avignon, and 90 km northwest from busy Marseilles. Arles charms with a medieval old town with beautiful old houses along the narrow streets, and with several UNESCO listed ancient monuments. In this post we shortly introduce Arles, with a picture gallery of some of the sights and streets views of the old town.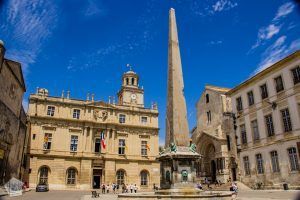 Arles is an ancient city, that has quite a lot historical significance, and the glory of the past is still visible today. Arles was an important trading port already before Roman times, and after the Romans invaded the city in 123 BC, it grew to have also military significance. Walled Arles, back then known as Arelate, was one of the major cities of Roman colony Gallia Narbonensis, and home to several Roman monuments, like an amphitheater, a circus and a triumphal arch. Some of the Roman era structures still exist in the middle of later built medieval structures, and walking tour in Arles is filled with interesting historical sights. The towers of the amphitheater were added in the Middle Ages, when it was turned into a citadel.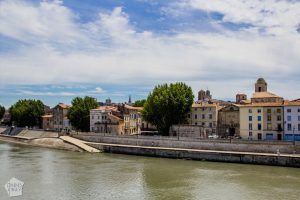 Arles is also a very cultural city, with several galleries, museums and festivals, like the yearly photography festival Rencontres d'Arles. Probably the best known "Arlesian" is Dutch artist Vincent van Gogh. The world-famous painter only lived in the city for 16 months, but it was very productive time for him. It's said that the light and landscape in Arles enchanted van Gogh, and his works became more colorful, rich in yellow, dark blue and light purple. Some of his best known oil paintings were created in Arles, and some of them, like the Starry Night Over the Rhone, are of Arles.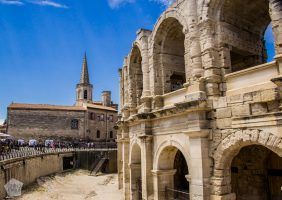 The historical center of Arles is quite compact, and it can be explored during a day trip. However, Arles is so charming, that a bit longer visit may be a better choice. Arles is a popular tourist destination, so there are plenty of accommodation options and restaurants, and even some nightlife. Arles is also a good starting point for exploring nearby destinations, such as the Camargue delta and the Provencal landscapes with lavender fields and small villages.
You also might like these posts