Castles and hiking trails in San Marino
San Marino is a tiny country landlocked in central Italy, near Rimini and the Adriatic coast. It's one of the least visited European countries, but still quite famous for its cliff top castles and mountainous views. This third smallest country of Europe has only around 33 500 inhabitants, but it actually is the world's oldest republic that still exists. There is basically no flat land in San Marino, as the micro-state lies in the slopes of Apennine Mountains.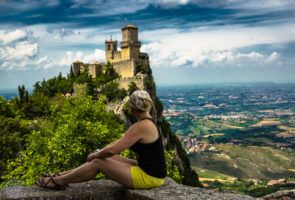 Why to visit San Marino then? Well, as itself this photogenic, small country doesn't have loads to offer for a longer stay, but combined with traveling in central or northern Italy, it's well worth a visit. Most of the tourists only make a day trip to San Marino, but spending a night or two is not a bad idea either. The most popular destination is the capital city San Marino, but there are several other small towns and villages around it. Having your own wheels enables driving through all of them and stopping whenever you'd like to snap a photo or have a gelato.
History of San Marino in a nutshell
According to a legend, San Marino was founded by a stonemason named Marinus back in year 301. He came from a Roman colony on island of Rab in present-day Croatia, and participated in the reconstruction of the city of Rimini in late 3rd century. During the Great Persecution of Christians in the Roman Empire, Marinus escaped to the mountains and founded a monastic community on Monte Titano, which later became San Marino. Founding city-states was a political phenomena in central and northern Italy for decades after the fall of the Western Roman Empire. San Marino however is the only one that survived as an independent country.
The official foundation date of San Marino is Sep 3rd year 301, but it's independence was recognized by the bishop of Rome in 1631. In late 18th century Napoleon's army threatened the independence briefly, but as one of the diplomats of San Marino befriended with Napoleon, he promised to protect the independence of the small nation. During World Wars San Marino remained neutral.
Main sights of San Marino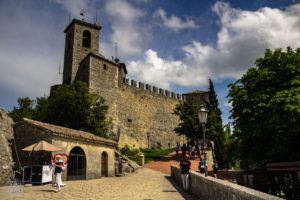 There are nine municipalities in San Marino, but basically all tourism and main sights are focused in the capital, the City of San Marino, also known as the Citta. The walled historic center, that was listed as a UNESCO World Heritage site in 2008, is on top of Monte Titano. To get there, you can use a funicular or walk, either along the road or following walking trails. If you arrive by car, there are several parking areas below the hill.
Three towers are a symbol of San Marino, also visible in the flag of the country. There are indeed three fortresses on three peaks of Mt Titano. Guaita Fortress is from 11th century, Montale Fortress from 14th century and Castello della Cesta is from 13th century. Cesta is gorgeously situated on a cliff-top, in the highest point of San Marino, and probably the most iconic and most photographed sight in the country.
When you are up in the old town, take some time just to walk along the narrow streets and admire the gorgeous architecture. There are palaces, churches and museums, and plenty of cafes with panorama views over the surrounding hilly landscapes and all the way to the Adriatic Sea.
San Marino for outdoor enthusiasts
Even if San Marino is small, there are some nice hiking paths, and the mountainous terrain can really make you sweat! Trekking, cycling and climbing in San Marino comes with awesome views, so why not to turn your visit into a sporty experience! We arrived by our own car, and left it near the lower station of the funicular to hike up to the walled town and fortresses.
Sentiero della Rupe / Cliff Trail hike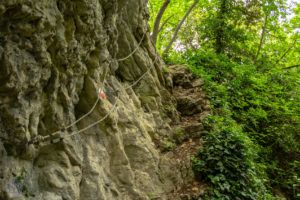 Just next to the funicular station in Campe della Fiera (Borgo Maggiore), you can find signposts of the circular hiking trail called the Cliff Trail or Sentiero della Rupe, that goes around Mount Titano, through the forested hillsides under the three towers. It's not a long hike, just a few km up in the forest, but there are some quite steep climbs and the weather in the woods can be both hot and humid. There are some beautiful views on the way, and you will walk past impressive rock formations and below and above steep cliffs. There are some stairs and climbs with the help of ropes, so this trail is neither cycling-friendly, nor for those with severe fear of heights.
The trail then leads to Piazzalle Kennedy, from where you can continue past the fortresses and towers and along the city walls all the way to the old town. The first tower you'll see is the Torre Montale, from where the paths continue towards Castello della Cesta and along the city wall to the Guaita Fortress and the city center. After exploring the town, you can continue back down along a walking trail from the other end of the town, through Porta della Rupee.
Other trails for trekking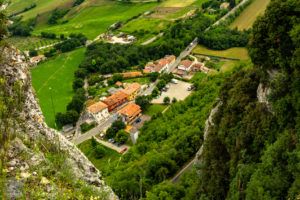 There are also some hiking and biking trails in other villages of San Marino, like the Canepa path to old water mills and Canepa cave, and the Castellacio trail up to Mount Seghizzo and the ruins of Fiorentino castle. There are some outdoor companies offering bikes for rent and organizing cycling and adventure tours through the beautiful countryside and to sights like the Canepa cave. We drove through most of the San Marino villages by car, and they surely would be nice destinations for a self-guided cycling tour also.
How to get in San Marino and other practical information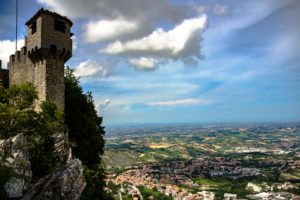 There is neither airport nor train stations in San Marino, but it's still easily reachable by public transportation, if you first go to the coastal city of Rimini in Italy. There are regular buses from Rimini (leaving next to the train station) to San Marino, fare is 5 € one way (2018). The closest airports to San Marino are in Rimini, Bologna, Florence and Ancona. The airport of popular holiday destination Venice is not that far away either. If you are coming from Baltic countries or Finland, one cost-efficient option is to fly to Venice from Riga with airBaltic, and make a trip to Rimini and San Marino from there by train, bus or rental car.
San Marino is not part of EU, but it has open border with Italy, so getting in San Marino is really straight-forwarded. For stays less than 10 days, no permit of stay is needed. The currency of San Marino is Euro and the official language is Italy, but English is widely understood and spoken. Climate is Mediterranean with warm summers and cool winters. The best time for a visit, if warm weather is preferred, is from late spring to early autumn, except in August, which is the busiest month with plenty of tourists roaming around the capital.
San Marino truly is a beautiful country, and ideal for a couple of days visit in the summer time. We made a day trip from Rimini in early June 2018, and combined hiking and sightseeing in San Marino. The amount of tourists was actually surprisingly low in June, for sure it'll get more busy later in summer. We didn't actually see anyone else on the hiking paths in the forest, besides on the upper part that runs from Piazzalle Kennedy parking lot to the towers.