Even if we have traveled quite a lot around Europe, we had never before been in Vienna, the capital of Austria. This city is absolutely charming, and has so much to offer for visitors. During our two-days stay we have made long walks in and around the inner city and to Hapsburg palaces, and tried not to care about the cloudy and rainy weather. Vienna is full of gorgeous architecture, historical palaces, huge churches, arts and culture, as well as beautiful squares and parks. This city has already charmed us, and I wouldn't be surprised if we'd come back here for a bit longer stay some time. There are so many travel guides written about Vienna, that we won't even get started with that. In this post we'll shortly introduce the city and some of the main sights, and share pictures of how the city looks like this time of the year.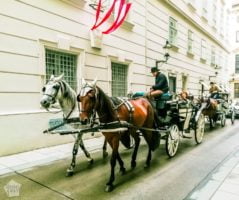 The history of Vienna is long and the city has seen plenty of rulers and different cultures. The first archaeological evidence from the site of the city dates back to Neolithic times, and there has been a settlement on the site of the present-day city since Celtic and early Roman times. In 1440 Vienna became a resident city of the Hapsburg dynasty, and in 1804 the capital of the new Austrian Empire. Different eras have left their marks in the looks of the city, and Vienna today is cheerful mix of old and new.
In addition to be known as home of monumental palaces, Vienna is often called as the city of music, or the city of culture. During it's history it has drawn artists, and world-famous composers like Beethoven, Mozart, Haydn, Brahms and Mahler have worked in the city. Theater and opera have long traditions in Vienna, and there are several opera houses in the city. Vienna Philharmonic Orchestra is world-famous, and considered as one of the finest in the whole world. There is also a huge amount of famous museums in Vienna, some of them in the imperial palaces. Area called Museumsquartier (museum quarter) is home to Baroque buildings as well as modern architecture, and holds 60 cultural institutions.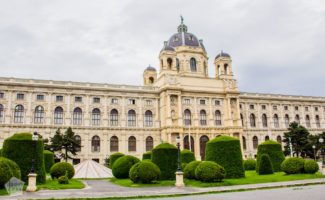 Vienna is full of famous sights and tourist destinations, that get busy every day year around. These must-see places include Hofburg Palace, Belvedere and Schönbrunn palaces and gardens, Gothic-style Stephensdom (St. Stephen's Cathedral) and Rathaus, as well as Vienna Operahouse, just to mention a few. However, it's not just the sights that make this city charming; it's more about the overall impression. Just walking around the city is a wonderful experience, admiring the architecture and the historical face of the city.
Practical information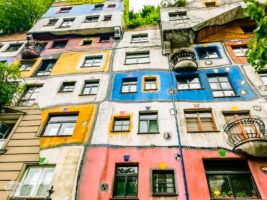 Vienna is located in the northeastern part of Austria, close to the borders with Slovakia, Hungary and Czech Republic. The population of the city is roughly 1,9 million, and altogether 2,6 million people live in the Vienna metropolitan area. Vienna international airport is just about 20 km out of the city, and Vienna is well connected to major European cities also with trail network and international buses. The cheapest way (4,20 €) to get to the city center from the airport are the regular trains – not to be mixed with the faster but more expensive airport express trains. The currency in Austria is euro, and official language is German, though most of the people in Vienna can also speak at least some English.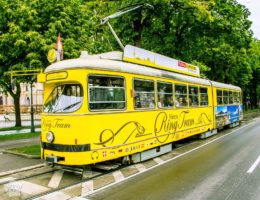 Vienna is not a particularly cheap city to travel in, but it's still possible to explore it also on a budget. Price for a dorm bed in a basic hostel is around 12 €, and cheap eats like kebab or falafel wraps in ethnic restaurants cost around 3-4 euros. Public transportation network in the city is extensive, but single ticket costs as much as 2,40 €. If you plan to use a lot of metros, trams of city buses, there are daily passes available, as well as Vienna cards that also give discounts to some museums and other sights. Naturally, for a traveler on a shoe-string budget, simply walking around is the best option. Also, tickets to major sights are pretty expensive, so budget travelers should carefully choose where to go. However, exploring the city doesn't require buying tickets, and for example admiring the Hapsburg palaces and wandering around the gardens next to them is free of charge, as is entry to the churches like St. Stephen's Cathedral.
We will end this short post with a tip for those into craft beer; there are some excellent micro-breweries in Austria, and in Vienna you can find the best craft beer bars in the country. We popped in Mel's Craft Beers & Diner in the inner city, drawn by their lunch offer, and tasted a few craft beers from their selection on taps. All craft beers on tap cost 2,90 € for a 0,25 l glass, which is not a bad deal at all.
Share your thoughts and best travel tips for Vienna in the comments!